| | |
| --- | --- |
| Journal Title | Jurnal Kebijakan Publik |
| ISSN | 2655-5204 (online) | 1978-0680 (print) |
| DOI Prefix | Prefix 10.31258 by  |
| Editor in Chief | Zulkarnaini |
| Publisher | Fakultas Ilmu Sosial dan Ilmu Politik Universitas Riau |
| Frequency | Fourth a year March, Juny, September and December |
Jurnal Kebijakan Publik contains articles and scientific papers in the form of research and non-research results, both in government institutions or in the community. This journal focuses on the theoretical and practical study of public policy starting from the formulation, implementation, and evaluation of policies carried out by the government in dealing with the changing needs and demands of society. Therefore, the publication of this journal as a scientific media regarding issues of public policy, both in the form of legislation, legal government, regional regulations, policy government, and government programs and actions. The publication of this journal aims to disseminate theoretical and practical studies in the field of public policy throughout higher education, government institutions, non-governmental at the central, provincial, and city/district levels.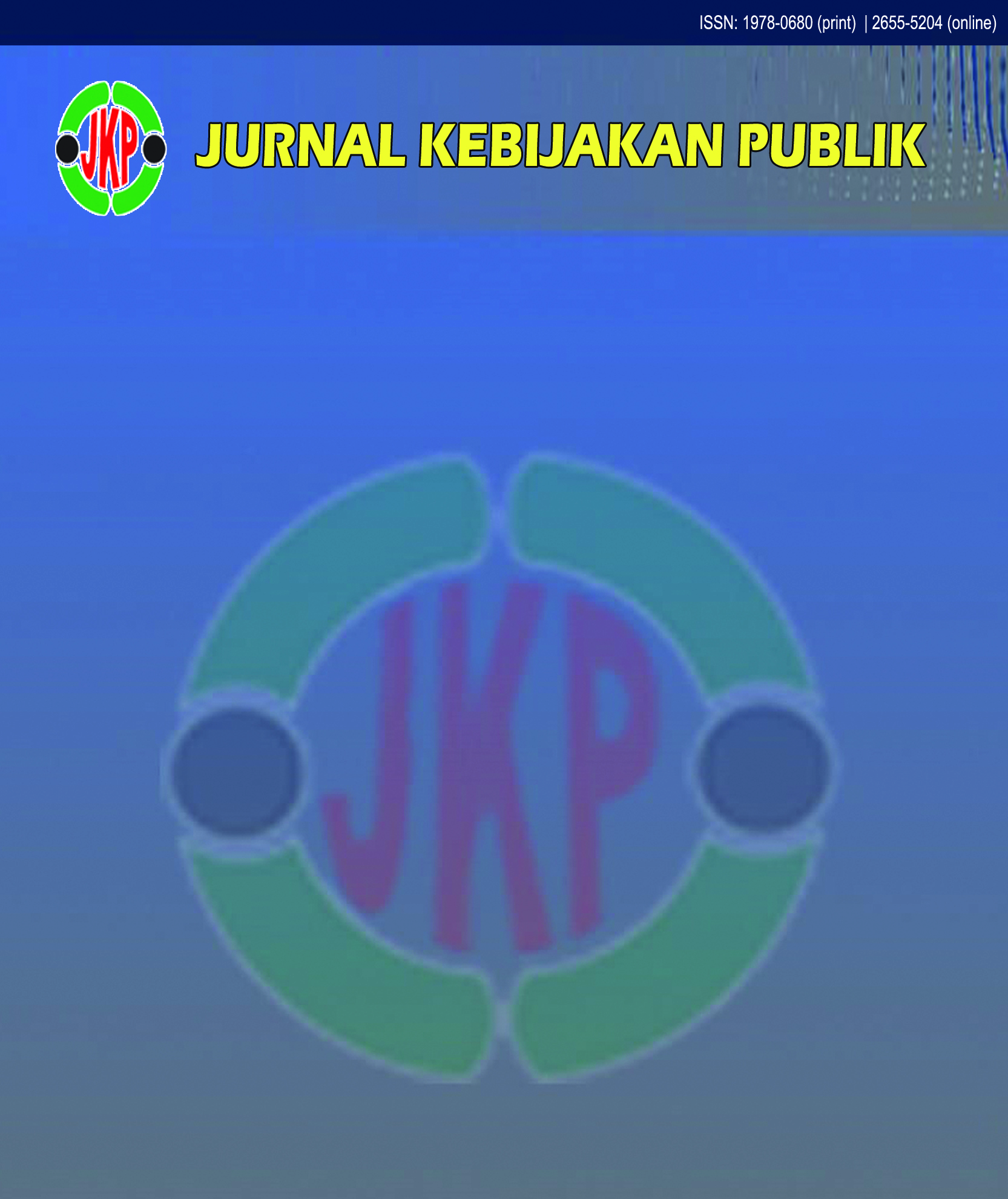 Jurnal Kebijakan Publik Indexed by:
Jurnal Kebijakan Publik licensed under a Creative Commons Attribution-ShareAlike 4.0 International License.
Vol 14, No 3 (2023)
Table of Contents
Articles
| | | |
| --- | --- | --- |
| | Ahmad Zaenal Wafik, I Komang Putra | 251-257 |
| | | |
| --- | --- | --- |
| | Emris Yeverson Kaja Jade | 258-266 |
| | | |
| --- | --- | --- |
| | Satria Surya Armando, Lukman Arif | 267-276 |
| | | |
| --- | --- | --- |
| | Nindya Tiara Fatikha, Ane Permatasari | 277-287 |
| | | |
| --- | --- | --- |
| | Zailani Surya Marpaung, Tuty Khairunnisa, Slamet Widodo, Imelda Imelda | 288-295 |
| | | |
| --- | --- | --- |
| | I Komang Putra, Wahyu Widayat, Gede Sanjaya Adi Putra, I Putu Gde Chandra Artha Aryasa, I Made Aditya Pramartha | 296-302 |
| | | |
| --- | --- | --- |
| | Ayunda Nabila Mauliddia, Diana Hertati | 303-308 |
| | | |
| --- | --- | --- |
| | Riyadi Riyadi, Erna Setijaningrum, Falih Suaedi | 309-318 |
| | | |
| --- | --- | --- |
| | Akhmad Rifky Setya Anugrah | 319-328 |
| | | |
| --- | --- | --- |
| | Dyas Syahlia Izmi, Ananta Prathama | 329-336 |
| | | |
| --- | --- | --- |
| | Samsul Ode, Margaretha Klara Mote | 337-343 |
| | | |
| --- | --- | --- |
| | Tasya Ainul Rofiah, Ertien Rining Nawangsari | 344-350 |
| | | |
| --- | --- | --- |
| | Fierda Nurany, Safira Firdaus, Reza Mia Anggraeni, Refridyan Dewi Safira, Agil Putra Anugrah, Deny Bactiar | 351-360 |
| | | |
| --- | --- | --- |
| | Dwi Andini, Tukiman Tukiman | 361-368 |